The structure of Interpol is a tricky to understand, but I will give you the basics of them.
Interpol consists of 5 main groups.
THE GENERAL ASSEMBLY<![if !vml]>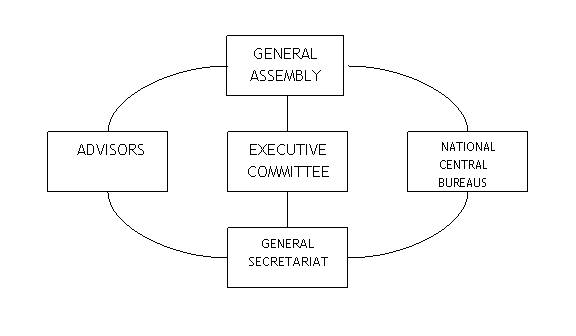 <![endif]>
THE NCB (National Central Bureaus)
These groups are represented in this organizational chart
The General Assembly - Is composed of all the representatives, 1 from each country in Interpol. they meet twice a year to make very important decisions about how to improve Interpol. Here are is their jobs.
The Executive Committee shall:
| | |
| --- | --- |
| (a) | Supervise the execution of the decisions of the General Assembly; |
| (b) | Prepare the agenda for sessions of the General Assembly; |
| (c) | Submit to the General Assembly any programme of work or project which it considers useful; |
| (d) | Supervise the administration and work of the Secretary General; |
| (e) | Exercise all the powers delegated to it by the Assembly. |
---
The Executive Committee- who all 13 members are elected by the general assembly. The committee is composed of 13 people, 9 of which are delegates, 3 are vice presidents and 1 president ( currently now M. Jesús Espigares-Mira [Spain]), all who represent the 4 regions of Interpol. ( Africa, Asia, The Americas, and Europe)
The General Secretariat shall:
| | |
| --- | --- |
| (a) | Put into application the decisions of the General Assembly and the Executive Committee; |
| (b) | Serve as an international centre in the fight against ordinary crime; |
| (c) | Serve as a technical and information centre; |
| (d) | Ensure the efficient administration of the Organization; |
| (e) | Maintain contact with national and international authorities, whereas questions relative to the search for criminals shall be dealt with through the National Central Bureaus; |
---
The General Secretariat - is composed of the secretary general ( who is currently Ronald k. Noble), the administrative staff and technical staff.
The NCB (National Central Bureau) - is the contact between Interpol and that country's law enforcement. Every country has its own NCB, and every request to Interpol goes through it. No law enforcement agency can make official contact without the NCB.
In order to ensure the above co-operation, each country shall appoint a body which will serve as the National Central Bureau. It shall ensure liaison with:
| | |
| --- | --- |
| (a) | The various departments in the country; |
| (b) | Those bodies in other countries serving as National Central Bureaus; |
| (c) | The Organization's General Secretariat. |
---
The Advisers - do as there name says. they advise everything and are appointed by the general assembly and are confirmed by the executive assembly.
---
The structure chart on this page is based on the official Interpol's website chart under information and governance.
This information in italics was taken from the Interpol Constitution.